A Rhythm of Reflection and Celebration
Here in the United States, we're feeling the warmer temperatures of May, and they hint at summer break. These weeks at the end of a school year move swiftly, swelling with activities and projects that culminate a year's worth of learning. From musicals to conference play-offs to capstone trips, this season is indeed full, and we wouldn't want it any other way. 
But what would it look like if we shifted our focus – and our school community's focus – to our Maker and Sustainer? What if the celebration of our school's and students' accomplishments expanded to include celebrating the One who has made it all possible? What if every end-of-year event marked a time we could internally pause to acknowledge His goodness and steadfastness?
Reflect
For Christians, celebration that moves us toward worship often begins with reflection. Although I graduated from college in the 1990's, I still remember the ongoing reminders of a professor to engage in the practice of reflecting. We were young and eager and ready to change the world. If left to ourselves, my classmates and I would have quickly moved from opportunity to opportunity, without pausing to reflect on – and grow from – our efforts. We would have internally smiled when a plan was successful and quickly moved forward. And when we stumbled, we would have dusted ourselves off, pushed through our mistakes, and scurried to create or accomplish something more. But my professor gently challenged us to pause, be still, and consider the work of our hands. What had we experienced? What had others experienced as a result of our work? Where had we been sanctified? And most importantly, what did God accomplish through our willingness? 
The practice of reflection is woven all throughout Scripture, too. All the feasts and festivals mentioned throughout the Old Testament were connected to events in Israel's history (Hulshof, 2023). Acknowledging Jehovah and His work in their lives was cultivated through rhythms of remembrance. The Psalms, written by various authors, gave them language to engage in both corporate and private reflection, resulting in not only thanksgiving and praise but also lament (C. John Collins, 2022). By following the songwriters' leadership, we have permission – and a compelling call – to ponder our true experiences. Sometimes our reflection brings us through a school year's success and flourishing, and other times we're challenged to bravely consider our failures and disappointments. As leaders, modeling a posture of reflection helps us shepherd our students, faculty, and parents toward humility and sanctification as we examine our experiences and ultimately give God praise. These rhythms must be intentional, for oftentimes, they feel counterintuitive and countercultural in an achievement-oriented field like education.  
After the practice of reflection comes celebration as we consider how God has remained steadfast year after year and how His plan is bigger than our day-to-day experiences. Eventually, we can open our fists that have been tightly clinging to our agendas, surrendering to a Sovereign God who is bigger than ourselves and our plans.
Celebrate an Unchanging God
In education, we have an advantage in practicing a rhythm of reflection and celebration because our work is framed within an established school year. Recently, I was clicking backward through my Google calendar, week by week, attempting to locate a past meeting. My purpose was to identify the meeting's date and time, so I could easily find notes I had handwritten into a spiral notebook. The events on my calendar naturally led me to reflect and marvel at all we had experienced this school year. Situations that once caused me concern had either been resolved or were less worrisome than several months ago. I was reminded of pursuits that had failed, circumstances that had been restored, and opportunities that led us to grow and improve – all within a few minutes. I marveled how God had sustained us, and I quietly worshiped in solitude at my desk because, through it all, the Lord never changed. 
Despite shifting experiences in enrollment, staffing, programming, standardized test scores, sports victories, and college acceptance rates, God remains the same. Week by week, year by year, He is constant and enduring and worthy of our praise. The psalmist of Psalm 119 exalts the unchanging God in verses 89 and 90:
Forever, O LORD, your word
is firmly fixed in the heavens.
Your faithfulness endures to all generations;
you have established the earth, and it stands fast. 
Through pandemics, transitions, turnover, and unpredictable headlines, God's Word and His truth are unshakeable. His faithfulness revealed to generations before us reaches down to our current students and future students. What God has established will remain secure; therefore, we are secure.
Celebrate A Bigger Plan
Like many Christian schools, our grade levels take a turn leading chapel each year. Last week, our First Grade recounted their annual study of the Bible's framework of Creation, Fall, Redemption,  Reconciliation, and Consummation. At Central Christian School, we call it "God's Great Story," and we included a refresher on Biblical Worldview for our teachers before the school year started this past August. But 6 and 7-year-olds can understand it, too, and they recently reminded our whole school of this single Gospel message that spans 66 books of the Old and New Testaments: Jesus died for our sins and redeemed us so that we can live in relationship with God. In being called out of sin and separation from our Father, and in receiving this gift of redemption, we can join Him in healing and restoring the world amidst our various relationships and communities.  
For Christian school leaders, the knowledge that God is orchestrating a bigger plan brings immense comfort and joy – comfort when our plans fall short during the school year and joy that He is always working in ways we cannot see. Isaiah reminds us in chapter 55, verses 8 and 9:
"My thoughts are not your thoughts,
neither are your ways my ways,"
declares the Lord.
"As the heavens are higher than the earth,
so are my ways higher than your ways
and my thoughts than your thoughts."
When our Admissions Committee is forced to waitlist an applicant because a class is full, or when a "good fit" teaching candidate is offered a contract and declines, or when that grant we thoughtfully applied for is not awarded, Christ-followers can believe God's future design offers flourishing according to His purposes. This end-of-school-year season affords us the opportunity to look back at all the mysteries and questions from the past eight or nine months and celebrate that we serve a God so immense that our finite minds can't quite comprehend Him or His ways. Take comfort in your smallness, friend. We serve an eternal, omniscient God who is worthy of our adoration.
Celebrate by Surrendering
While praising God both privately and publicly sets our minds and hearts on Him, we are called to not just worship but also surrender to Him. Consider the account of creation in Genesis chapters 1 and 2. God's example of rest on the seventh day is an invitation to work hard and then sit back to survey our work and be satisfied, trusting God will continue His plans and purposes even after we're done. 
The busyness of May can be a distraction from this truth and also a temptation to push through on our own efforts. For those of us who wanted to accomplish more this year, we're inclined to shake our heads, roll up our sleeves, and demand more from our staff in the last few weeks of school. And those of us who found success are tempted to celebrate ourselves or the wisdom in our good hires as we embrace pride. The worship leader who wrote Psalm 19 challenges us even today with verse 14:
Let the words of my mouth and the meditation of my heart
be acceptable in your sight,
O Lord, my rock and my redeemer.
Because we're flawed with sin, we need the compass of God's Word to remind us of what's true, and this truth leads us to trust our Maker. "The Word of God reveals the lie that God can't be trusted." (C. Smith, sermon, May 14, 2023). Our surrender is our offering. Our surrender acknowledges that God is indeed the Rock who redeems. This powerful imagery and metaphor moves us to not only meditate on what's true, but also verbally proclaim our trust in Him to our school communities.
This May, together as Christian school leaders, let's corporately pray this benediction as we wrap up the school year: "Now to him who is able to do far more abundantly than all that we ask or think, according to the power at work within us, to him be glory in the church and in Christ Jesus throughout all generations, forever and ever. Amen." Ephesians 3:20-21
---

References
Collins, J. (2022). ESV Expository Commentary: Psalms-Song of Solomon (Vol. V). Crossway.
English Standard Version Bible. (2001). Psalm 119: 89-90, Isaiah 55:8-9, Psalm 19:14, Ephesians 3:20-21.
Hulshof, C. (2023, February 13). 4 Building Blocks for a Theology of Celebration. Lifeway Research. https://research.lifeway.com/2023/02/13/4-building-blocks-for-a-theology-of-celebration/ 
Smith, C. (2023, May 14). Greater Rest. Jesus is Greater.
---

Author Biography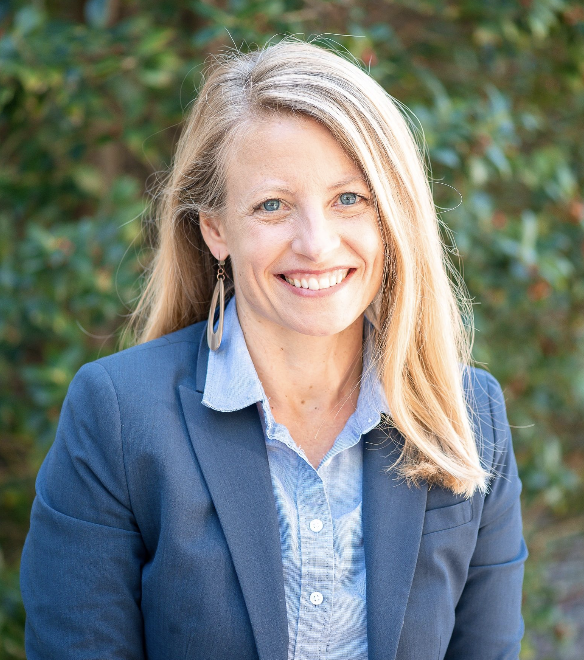 Christan Perona is the Head of School of Central Christian School (St. Louis, Missouri), a racially and socio-economically diverse school serving children ages 3 through Grade 6. Prior to becoming Head in 2020, she served Central as the Director of Admissions and Communications for 13 years while also serving as a consultant with Relate2Color, a Christian diversity firm. Christan began her career in social work with a focus on adoption, as well as drug and crime prevention. She's been married to JD for 26 years, and they have two college-aged children. You can follow her on LinkedIn.
Share this post: