January 2023
CESA is pleased to present an outstanding 5-day program designed for CESA School Heads and rising leaders. This program will enable you to learn from some of the world's foremost experts and thought leaders and help support your leadership journey. The program will challenge assumptions about leadership, business strategy and the future of education. This is an exciting opportunity to develop more strategic, purposeful and transformational leadership to position our organizations for long-term success and impact. Tuition includes lodging, two formal dinners, all breakfasts, lunches, and all programming. There will be opportunities for spouses to join formal dinners, and there will be a program that parallels Heads Retreats of the past in tandem with outings in Oxford and the surrounding areas.
Sunday, Jan. 15
Optional Church History Tour with Rev. Greg Downes at 3 p.m.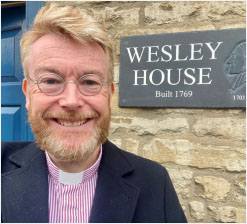 Rev. Greg Downes is an international evangelist and Director of Kingfisher Ministries, a charity that exists to communicate the Good News of Jesus Christ and equip the Church to fulfil the Great Commission. Greg is an member of the Archbishop of Canterbury's College of Evangelists. Until the end of 2021 he was the Director of Ministerial Training and Dean of the Wesley Centre for Missional Engagement at Wycliffe Hall, Oxford University. Greg studied Politics at university in London and Education at Cambridge then served as the study assistant to Rev. Dr John Stott before studying theology at Oxford prior to ordination. He loves walking, snorkeling, wild camping, sailing and skiing and lives in the region of Oxford with his wife Tamie, a medical doctor and his two daughters Trinity and Anastasia. Please meet in the lobby of The Randolph at 2:50 p.m. for this walking tour.
Reception, Dinner at The Divinity School at 6 p.m.
The Divinity School at Bodleian Library is a stunning piece of medieval architecture. Designed between 1423 and 1488 specifically for lectures, oral exams, and discussions on theology, was almost 'certainly the building that popularized Tudor arches'. We will enjoy a reception, dinner, and after-dinner address from Lord Michael Hastings.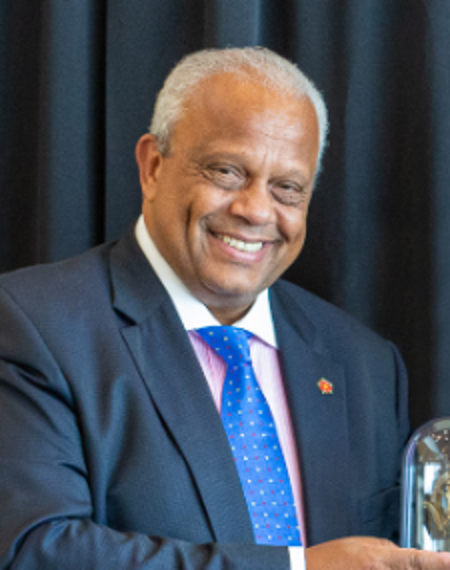 Lord Dr. (Michael) Hastings of Scarisbrick CBE has enjoyed a distinguished career in education, government, television broadcasting, business, and public service. He is a member of Parliament the British House of Lords and the Chancellor of Regents University London, BBC's head of Public Affairs and then its first head of Corporate Social Responsibility and the former Global Head of Citizenship for KPMG International. In 2003, Michael was awarded a CBE (Commander of the British Empire) for services to crime reduction. In 2005, Michael was awarded a life peerage to the House of Lords. In the same year, he received the UNICEF Award from the then UK Chancellor for his outstanding contribution to understanding and effecting solutions for Africa's children. In 2017 Michael was installed as the Chancellor of Regent's University London.
---
Monday, Jan. 16
Breakfast will be at The Randolph Hotel and can be enjoyed at your leisure. After breakfast, make your way to Lady Margaret Hall for a 9:00 am start. Lady Margaret Hall is about a 15-minute walk from The Randolph, or if you prefer, a taxi can be called.
Spouses: Introductions and Walking Tour at 9 a.m.
Devotional at 9 a.m.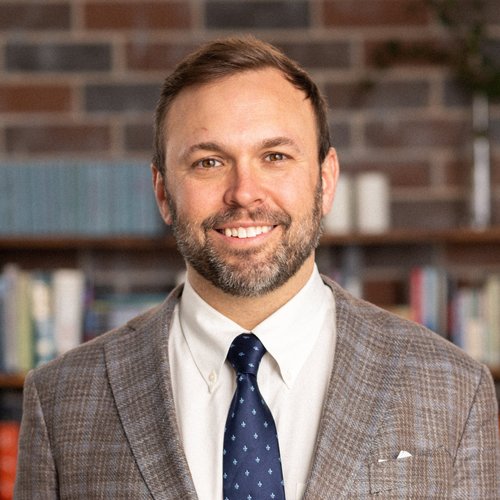 Jason Dees, Senior Pastor of Christ Covenant in Atlanta, will be leading us as our Chaplain throughout our time in Oxford. An avid fan of Oxford, Jason's rigorous approach to the study of the Bible and meditation on His word will be a gift to us as we seek to engage our hearts, minds, and souls.
Session 1: Patrick McDonald: Vision & Purpose-led Leadership and Strategy at 9:30 a.m.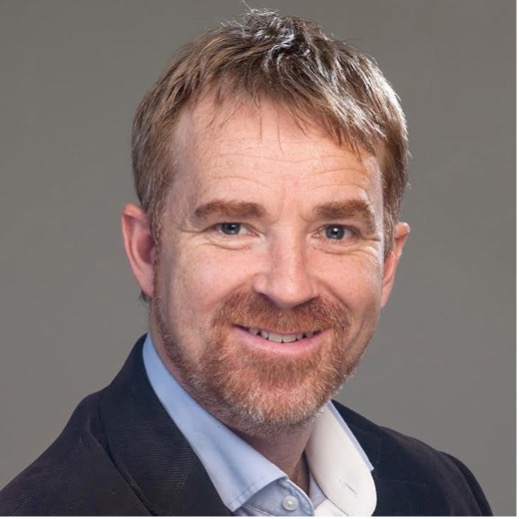 Patrick McDonald is a founding partner of Openwell (previously named Oxford Catalyst Ventures), which he started 2012 to discover and deliver solutions to social and environmental problems. He has been instrumental in starting several commercial and charitable enterprises and has been brokering commercial capital for impact investors, including a leading Venture Capital firm focused on Oxford University spin-outs. At the age of 17, Patrick started the global children's charity Viva, which today helps over a million children every year across 22 countries. Patrick holds an MBA from Oxford University's Saïd Business School.
Lunch at noon in Lady Margaret Hall
School Visit: Magdalen College School at 2 p.m.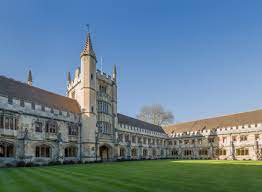 Since the 15th century, Magdalen College School has been educating the children of Oxford, both the townspeople's children and the wealthy educated elite. Built on a "Christian Collegiate foundation", its' purpose and ethos today is embodied in its motto: Learn, Flourish, Serve. It is our hope that we can explore the tension of tradition and future-focus; of their Christian heritage and contemporary culture.
Spouses: Afternoon Tea and Book Discussion at 2 p.m.
---
Tuesday, Jan. 17
Breakfast will be at The Randolph Hotel and can be enjoyed at your leisure. After breakfast, make your way to Lady Margaret Hall for a 9:00 am start. Lady Margaret Hall is about a 15-minute walk from The Randolph, or if you prefer, a taxi can be called.
Spouses: Spiritual Formation at 8:30 a.m.
Devotional at 9 a.m.
Session 2: Steve Cockram: High Performing Teams: Unlocking Potential at 9:30 a.m.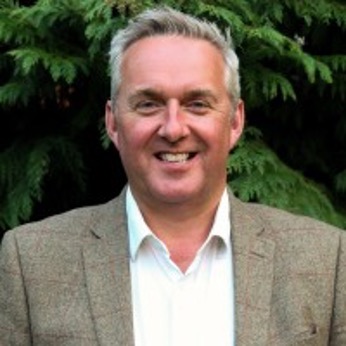 Steve Cockram is an international speaker, author, and consultant to top-level executives and leaders around the world. He is a subject matter expert on personality and wiring, organizational leadership, emotional intelligence, and interpersonal communication. Steve is the co-founder of GiANT Worldwide, a global leadership consultancy. He is also co-author of the books 5 Gears and 5 Voices published by Wiley.
Spouses: Tour of The Kilns at 10 a.m.
Session 3: Elvin Turner: Imagining What is Possible: A Culture of Creativity at 11:30 a.m.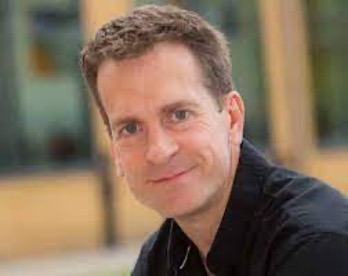 Elvin Turner is an award-winning innovation expert and associate professor of innovation, entrepreneurship and marketing for MBA and executive education programs. His clients include some of the world's most innovative organizations in the finance, technology, music, drinks and publishing industries. He has coached hundreds of corporate innovation initiatives around the world, helping leaders and managers overcome the many barriers that they face when trying to turn new ideas into action. His experience extends from working with new and disruptive technology start-ups, through to seasoned leadership teams inside conservative, global institutions.
Lunch at 1 p.m. in Lady Margaret Hall
Optional Tour of Brasenose College and Vaults with Dr. Chris McKenna at 2 p.m.
Before the foundation of Brasenose College part of the site was occupied by Brasenose Hall, one of the medieval Oxford institutions which began as lodging houses and gradually became more formal places of learning. Brasenose Hall was situated on the site of the College's entrance tower (situated on Old Quad). In the Survey of Inquisition of 1279 it is also stated that Oxford University held 'a house called Brasennose…in the parish of St Mary the Virgin'. A quarry in Headington was leased to provide stone for the new buildings of Brasenose on 19 June 1509 and this is the year which Brasenose College keeps as its foundation. The Royal Charter which created the body of Principal and Fellows is dated 15th January 1512. It established a College to be called 'The King's Hall and College of Brasenose' (in this sense Brasenose Hall still exists) for the study of sophistry, logic, philosophy and, above all, theology.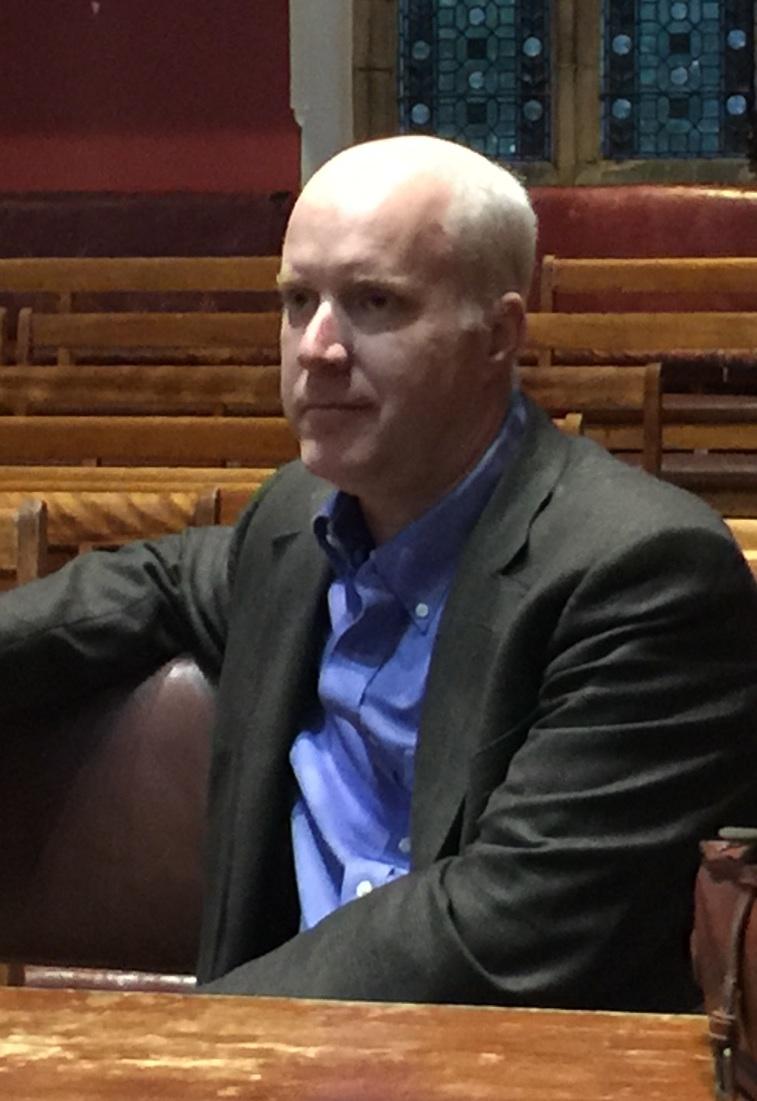 A popular teacher of undergraduates, MBAs and executives, Chris was nominated as one of Oxford University's three best teachers for the UK's National Teaching Fellowship Award in 2005 and 2006. In 2014, he was awarded a prize for teaching excellence from the Social Science Division in the University of Oxford. Alongside his role as a University Reader, Chris is a Fellow of Brasenose College, Oxford.
Chris's current research project is the history of white-collar crime from the South Sea Bubble to the present. Chris was an undergraduate in economics at Amherst College and completed his PhD at the Johns Hopkins University. He has worked on Wall Street and in the City of London and has held research fellowships at Yale University, Georgetown Law, and the Harvard Business School. Prior to joining Saïd Business School, Chris taught at the Wharton School in the University of Pennsylvania.
---
Wednesday, Jan. 18
Breakfast will be at The Randolph Hotel and can be enjoyed at your leisure. After breakfast, make your way to Lady Margaret Hall for a 9:00 am start. Lady Margaret Hall is about a 15-minute walk from The Randolph, or if you prefer, a taxi can be called.
Spouses: Spiritual Formation Part 2 at 9 a.m.
Devotional at 9 a.m.
Session 4: Dr. Jane Craig: Organizational Resilience Through Purpose-led Business Strategy at 9:30 a.m.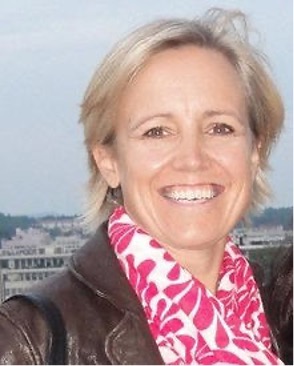 Dr. S. Jane Craig has broad operational and leadership experience at senior levels in the Fast Moving Consumer Goods sector. Until 2018, she led the Global Leadership Development team at Mars Incorporated, one of the largest privately-owned manufacturing businesses in the world. Jane has pioneered new leadership development approaches that seek to create more transformational business leaders. Leaders possessing greater capacity to handle complexity, combined with the creativity and commitment to re-invent business models. All in service of the idea that business might become a more equal partner in delivering a sustainable future for our communities and planet. She has collaborated for many years with the founders of the management innovation called the 'Economics of Mutuality' and supports her clients with their ambition to put purpose into everyday business practice. This work strongly connects leadership action to purpose-led business strategy.
Session 5: Katy Granville-Chapman: Leadership for the Future: The Oxford Character Project at 11 a.m.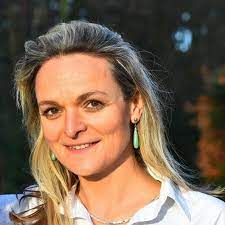 Dr Katy Granville-Chapman is an associate fellow of the Oxford Character Project, a Doctoral Teaching Fellow at Oxford University's Department of Education, and a Research Associate at the Oxford University Wellbeing Research Centre. Katy is the co-author (with Emmie Bidston) of 'Leader: Know, love and inspire your people', which has been shortlisted for the Business Book Awards 'leadership book of the future' and longlisted for CMI Management Book of the Year. She is the co-founder of Global Social Leaders, a movement of young people in 105 countries who design and lead social action projects that make meaningful change in their communities. Katy holds a DPhil from the University of Oxford which focused on leadership and flourishing. Katy is also a Deputy Headteacher at Wellington College (focusing on teacher performance and development) and founder of the Wellington Leadership and Coaching Institute

.
Lunch at 1 p.m. in Lady Margaret Hall
Session 6: Professor Ger Graus & Ben Mason: 21st Century Education and Emerging Trends at 2 p.m.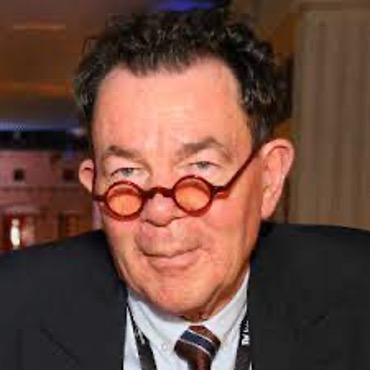 Ger was the first Global Director of Education at KidZania, and, before that, the founding CEO of the global Children's University. In 2019, he was invited to join the National Research University, Moscow, Russia, as a Visiting Professor. He is a Board Director at Hello Genius, USA. Ger moved to the United Kingdom in 1983 and began his teaching career at Taverham High School, Norwich, and then moved to Winifred Holtby School, Hull, as Head of the Modern Languages Faculty. He later became an Education Adviser, Senior Inspector, and Director of Education. Ger serves as a member of Bett's Global Education Council, UK; DIDAC's Advisory Board, India; Junior Achievement's  Worldwide Global Council; chair the Beaconhouse School System's Advisory Board, Pakistan; advise the Fondazione Reggio Children, Italy, and CET, Israel; and has been invited to help shape the future of education in Dubai as a member of the Dubai Future Councils.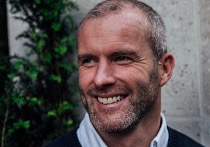 Ben Mason was a teacher for 16 years across the state and independent sector. During his last 12 years as a teacher, he was the Director of Sport and Rugby at Durham School. Having played National League rugby and now coaching in National Div 2, Ben has lived sport and education for the majority of his career. Having left teaching in 2017, Ben founded the pioneering EdTech platform, www.myglobalbridge.com. Bridging pathways between education and industry, globalbridge provides school and college students with a digital 'e-portfolio' in order to evidence their Knowledge, Character, Skills and Achievements, beyond grades alone. With a strong social purpose, globalbridge is levelling the playing field of opportunity for young people. Due to the innovation and fast growing nature of globalbridge, Ben found himself in The Sunday Times, top 100 entrepreneurs list.
Formal College Dinner with Spouses at St. Peter's College at 6 p.m.
The tradition of "Formal Hall" spans centuries at Oxford and other Universities in the United Kingdom. With the purpose of bringing students together over readings, prayer, and to nurture the relationships vitally important to these Universities and to the success of their students. We are excited to bring this element of Oxford life to you. Dress is business to semi-formal. Men are encouraged to wear suits and women are encouraged to wear cocktail attire.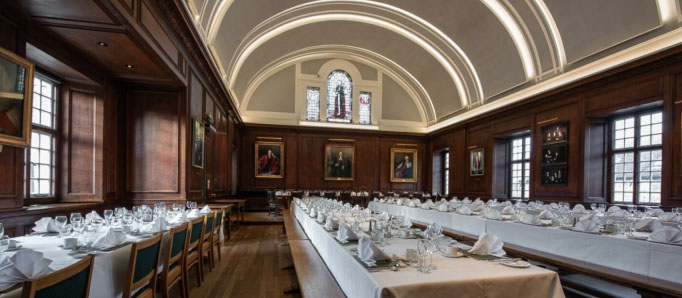 ---
Thursday, Jan. 19
Breakfast will be at The Randolph Hotel and can be enjoyed at your leisure. After breakfast, our meetings will be held at The Randolph Hotel.
Devotional at 9 a.m.
Session 7: Tom Fletcher: The skills to thrive in the future at 9:30 a.m.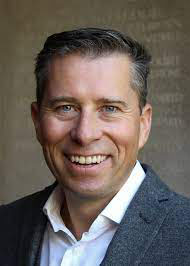 Tom Fletcher, CMG is the Principal of Hertford College, and was Her Majesty's Ambassador to the Lebanese Republic from August 2011 to July 2015. He is a Visiting Professor at New York University and author of The Naked Diplomat (2016) and "Ten Survival Skills for a World in Flux" (2022). Tom was born in Kent, and studied at Harvey Grammar School (Folkestone) and Oxford University (Hertford College), graduating with a First class degree in Modern History. He has an MA in Modern History, and is a Senior Associate Member of St. Anthony's College for International Studies, Oxford. Tom was awarded the Companion of St Michael and St George (CMG) in the 2011 New Year's Honours, for services to the Prime Minister.
Session 8: Tim Wiens and Katie Wiens: What is Next for CESA Schools? at 11 a.m.
Adjourn at 12:30 p.m.
Lord, be our guide and our protector
on the journey we are about to take.
Watch over us.
Protect us from accidents.
Keep us free from harm to body and soul.
Lord, support us with Your grace when we are tired.
Help us be patient in any trouble which may come our way.
Keep us always mindful of Your presence and love.
Amen.